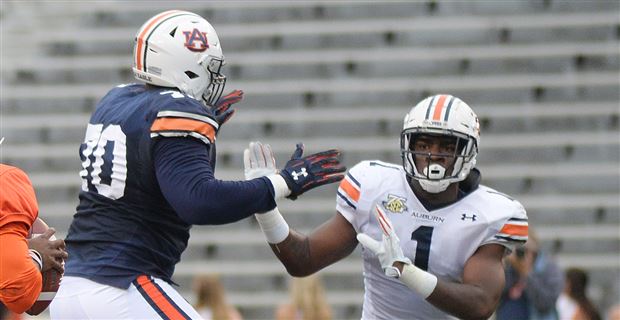 Auburn, Ala.--With the 2017-18 academic year now done at Auburn it's time to officially turn to the 2018 football season for the Tigers and that means getting a look at the updated roster heading into the summer. As always there have been some significant changes in terms of size for the players since last summer, particularly with guys heading into their second seasons on the Plains.
One of the positions that people will be keeping a close eye on is running back where both Kerryon Johnson and Kamryn Pettway are gone from last year. A player that is expected to be counted on to have a much heavier workload at the running back position after carrying the ball 74 times for 453 yards and a pair of touchdowns, junior Kam Martin checks in at 193 while redshirt freshman JaTarvious Whitlow is 216 and true freshman Asa Martin up nine pounds to 209.
A wildcard on offense is sophomore Devan Barrett. Used mostly on third downs and special situations last season, the Tampa native was moved to wide receiver in the spring becasue of injuries to Eli Stove and Will Hastings. Now 195, up 11 pounds from last season, Barrett gives the Tigers a player that could still see time in the backfield this fall and is more prepared to run between the tackles with his added size.
Preparing to make a run at the starting center position, redshirt freshman Nick Brahms was injured during the spring with a broken bone in his lower leg, but should be back in plenty of time this summer to be ready to push Kaleb Kim for the position. Checking in at 276 pounds when he arrived last year, Brahms is now 304 pounds as he heads into his second season.
With an opportunity to play more this season, wide receiver/tight end Sal Cannella was just 228 last season, but has changed his body in the last year. Now at 232 pounds he's definitely leaner and stronger.
On defense the biggest addition comes from sophomore pass rusher Big Kat Bryant. After a spring hand injury last year kept him from being able to lift and get bigger and stronger prior to his arrival on the Plains, Bryant played defensive end at just 225 pounds a year ago. Now with a full year under his belt the Georgia native is now 253 pounds.
In the secondary Jeremiah Dinson is physically in a much better spot heading into the 2018 season after being listed at 186 last season. He now checks in at 195 and should be a more physical safety for the Tigers.
You also have players that have worked hard to lose weight and get in better shape. Perhaps the most dramatic of those is redshirt freshman offensive tackle Calvin Ashley. Checking in at 350 when he got on campus last year, the former five-star has worked hard and is now down to 322 pounds. Fellow offensive lineman Brodarious Hamm is down 19 pounds to 325 after starting last season at 344 pounds.

On the defensive side of the ball tackles Derrick Brown and Tyrone Truesdell have put in some serious work. Last season Brown was listed at 316 with Truesdell at 338. Brown now weighs 325 while Truesdell is down to 314.
One of the most significant changes is by senior linebacker Deshaun Davis. Weighing 246 at the start of last season, the Mobile native is 233 coming out of the spring and poised for a big finish to his career.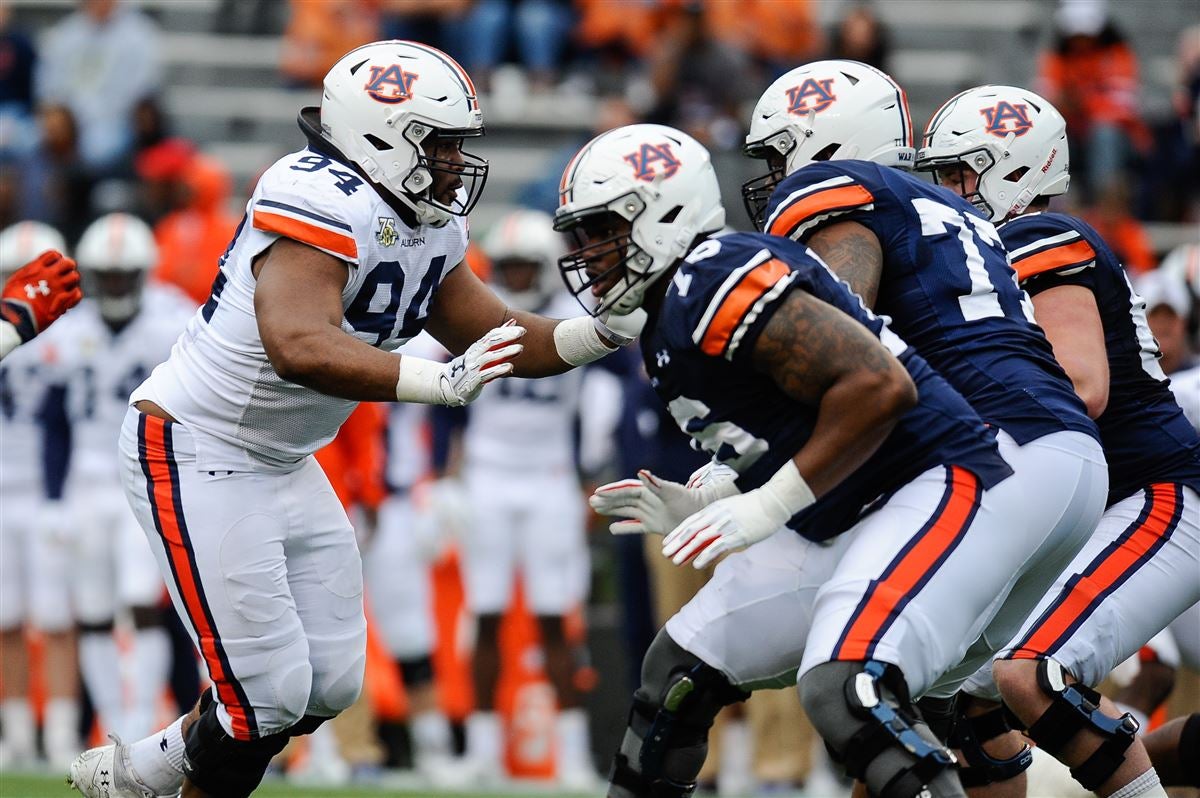 Also of note are the sizes of several of the true freshmen expected to see playing time for the Tigers this coming season. In the secondary, safeties Smoke Monday and Jamien Sherwood are both being groomed to play a significant role their first season as is cornerback Christian Tutt. Monday is up to 188 from 180 when he arrived while Sherwood has gained seven pounds and checks in at 207. Tutt has made a big jump, up from 185 to 195 heading into the summer.
| | | | |
| --- | --- | --- | --- |
| Name | OLD | NEW | +/- |
| Devin Adams | 244 | 239 | -5 |
| Wil Appleton | 196 | 199 | 3 |
| Calvin Ashley | 350 | 322 | -28 |
| Malcolm Askew | 182 | 192 | 10 |
| Montavious Atkinson | 218 | 219 | 1 |
| Devan Barrett | 185 | 196 | 11 |
| Nick Brahms | 276 | 304 | 28 |
| K.J. Britt | 239 | 228 | -11 |
| John Broussard Jr. | 172 | 181 | 9 |
| Derrick Brown | 316 | 325 | 9 |
| Tucker Brown | 288 | 289 | 1 |
| Big Kat Bryant | 224 | 253 | 29 |
| Sal Cannella | 228 | 232 | 4 |
| Anders Carlson | 200 | 210 | 10 |
| Tyler Carr | 316 | 329 | 13 |
| Craig Carter | 198 | 194 | -4 |
| Cedric Chambers | 187 | 188 | 1 |
| Nick Coe | 270 | 282 | 12 |
| Chandler Cox | 239 | 242 | 3 |
| Nate Craig-Myers | 213 | 214 | 1 |
| Chase Cramer | 205 | 198 | -7 |
| Marlon Davidson | 282 | 278 | -4 |
| Deshaun Davis | 246 | 233 | -13 |
| Javaris Davis | 186 | 187 | 1 |
| Ryan Davis | 175 | 185 | 10 |
| Jamel Dean | 215 | 208 | -7 |
| Tanner Dean | 202 | 210 | 8 |
| Jeremiah Dinson | 186 | 195 | 9 |
| Josh French | 209 | 205 | -4 |
| Phelps Gambill | 282 | 284 | 2 |
| Joey Gatewood | 235 | 237 | 2 |
| Devin Guice | 160 | 164 | 4 |
| Brodarious Hamm | 344 | 325 | -19 |
| Marquel Harrell | 308 | 307 | -1 |
| Jalen Harris | 252 | 254 | 2 |
| Will Hastings | 167 | 166 | -1 |
| Mike Horton | 318 | 324 | 6 |
| Noah Igbinoghene | 186 | 196 | 10 |
| Alec Jackson | 280 | 297 | 17 |
| Shedrick Jackson | 193 | 204 | 11 |
| Jaunta'vius Johnson | 324 | 326 | 2 |
| Trent Kelley | 280 | 298 | 18 |
| Kaleb Kim | 293 | 300 | 7 |
| Griffin King | 180 | 179 | -1 |
| Sage Ledbetter | 181 | 182 | 1 |
| Traivon Leonard | 191 | 196 | 5 |
| Tashawn Manning | 320 | 323 | 3 |
| Josh Marsh | 209 | 217 | 8 |
| Aidan Marshall | 163 | 190 | 27 |
| Asa Martin | 200 | 209 | 9 |
| Kam Martin | 182 | 193 | 11 |
| Richard McBryde | 237 | 232 | -5 |
| Marquis McClain | 226 | 217 | -9 |
| Ryan Meneely | 322 | 303 | -19 |
| Malik Miller | 225 | 216 | -9 |
| Smoke Monday | 180 | 188 | 8 |
| James Owens Moss | 184 | 182 | -2 |
| T.D. Moultry | 240 | 245 | 5 |
| Robert Muschamp | 244 | 240 | -4 |
| Jayvaughn Myers | 192 | 187 | -5 |
| Peyton Nance | 318 | 300 | -18 |
| Daquan Newkirk | 295 | 306 | 11 |
| Spencer Nigh | 270 | 269 | -1 |
| Pace Ozmint | 181 | 184 | 3 |
| Jordyn Peters | 185 | 191 | 6 |
| Jacob Rogers | 205 | 207 | 2 |
| Dontavius Russell | 310 | 320 | 10 |
| Prince Micheal Sammons | 292 | 300 | 8 |
| Ian Shannon | 222 | 236 | 14 |
| Bailey Sharp | 300 | 307 | 7 |
| John Samuel Shenker | 235 | 248 | 13 |
| Sam Sherrod | 198 | 199 | 1 |
| Jamien Sherwood | 200 | 207 | 7 |
| Darius Slayton | 190 | 190 | 0 |
| Clarke Smith | 226 | 233 | 7 |
| Jarrett Stidham | 214 | 215 | 1 |
| Eli Stove | 183 | 176 | -7 |
| Bill Taylor | 227 | 234 | 7 |
| Daniel Thomas | 203 | 208 | 5 |
| Barrett Tindall | 202 | 214 | 12 |
| C.J. Tolbert | 187 | 199 | 12 |
| Austin Troxell | 292 | 305 | 13 |
| Tyrone Truesdell | 338 | 314 | -24 |
| Christian Tutt | 185 | 195 | 10 |
| Jacob von Eschenbach | 211 | 211 | 0 |
| Gary Walker | 270 | 281 | 11 |
| Prince Tega Wanogho | 301 | 307 | 6 |
| JaTarvious Whitlow | 216 | 216 | 0 |
| Andrew Williams | 286 | 286 | 0 |
| Darrell Williams | 244 | 240 | -4 |
| Malik Willis | 202 | 195 | -7 |
| Chandler Wooten | 237 | 231 | -6 |
Click Here to Sign Up for Premium Content
Sign Up for Free AUTigers.com Newsletter
Subscribe to Inside the Auburn Tigers Magazine and Football Newsletter