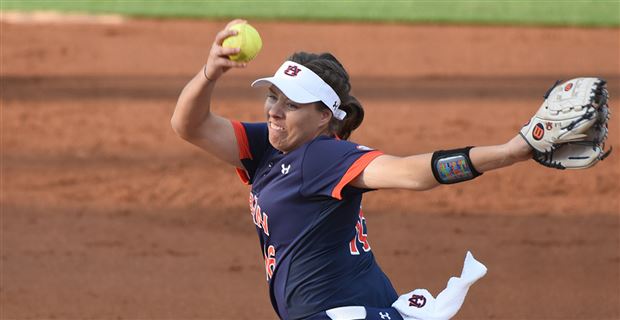 Auburn, Ala.--The Auburn softball team will not be an NCAA Regional host this season. Instead, the Tigers will be on the road for regional play beginning on Friday in Tallahassee, Fla., where they will face the Kennesaw State Owls for the second time this season.
While Auburn's players seemed surprised to be on the road at an event with No. 6 national seed Florida State as the host, Coach Mickey Dean tried to put a positive spin on his team hitting the road when four SEC teams the Tigers defeated in the regular season series (Arkansas, Alabama, Kentucky and Tennessee) were allowed to play opening round games at home.
Asked if it is a disappointment, Dean said, "No, I think any time you have an opportunity to play in postseason it is not a disappointment. It gives you an opportunity to play for a national championship. I think that is what it all about."
When the announcement was made at a team watch party at the AU football complex auditorium, there was no celebration and lot of surprise from the players.
When asked if the Tigers didn't receive respect from the NCAA Tournament Selection Committee, Dean said, "I will let our players take it however they want."
The Tigers will open against a Kennesaw State team they defeated 2-1 the regular season. The first pitch is scheduled for Friday at 11 a.m. CDT in Tallahassee. The Owls are 39-15 overall.
In the other matchup in the double elimination tournament Jacksonville State will take on FSU.
In his first season as head coach of the Tigers, Dean has seen his team post a 40-15 overall record. The Tigers will look to extend a streak of three consecutive seasons in which they won NCAA regionals tournaments. Each of those were played at Jane B. Moore Field on the AU campus.
The following are comments from Coach Mickey Dean:
Senior catcher Courtney Shea, who has played in the previous three NCAA Tournaments, admitted her Tigers didn't have the kind of season they wanted. The team ended
league play with three losses at Texas A&M. After winning two games at Chattanooga the Tigers closed the regular season with an opening round loss to Alabama in the SEC Tournament. Putting it all together, despite a strong record the Tigers hurt their seedings cause by winning just four or their final 10 games.
"I think when it comes to postseason, you kind of don't know where you stand, especially since we didn't perform like we wanted to this year," Shea said. "I'm not really disappointed. It is what it is and we've got to keep moving forward."
For another senior, opening the tournament against Kennesaw State brings back memories of a pitch that hit her in the hand when the teams played at Jane B. Moore Field. Center fielder Victoria Draper said doesn't hold a grudge, noting that KSU pitcher didn't mean to injure her.
In the regular season matchup vs. Kennesaw State both teams scored a run in the fourth inning and Auburn pulled ahead in the fifth as Kaylee Carlson, pitching in relief of Makayla Martin, picked up the victory. Martin allowed three hits and one run in four innings. Carlson allowed just one hit in three innings and picked up the win after sophomore Alyssa Rivera's solo homer gave the the Tigers lead.
"It's no secret that we've been struggling on the road so I think now's our time to prove that we can go out there and we can beat any school at any place," Carlson said.
"We just have to go out there and do what we know how to do," the senior added as the Tigers turn their attention to Friday's game vs. Kennesaw State. "We've already played this team so we know them. They know a little about us. I think that's going to be an advantage to both teams,so we just have to go out there, fix what we did wrong last time and do it better this time."