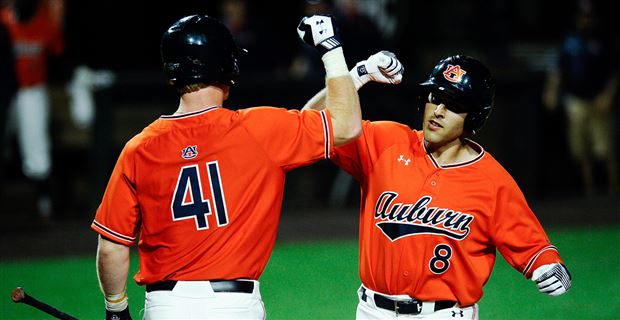 Auburn, Ala.--While the weekend at Ole Miss was a lost opportunity for the Auburn Tigers with the Rebels sweeping Coach Butch Thompson's club, by virtue what happened around the league Auburn has wrapped up a berth in the SEC Tournament heading into the last weekend of the regular season.
With three games left at home against LSU, Auburn is not only playing for seeding purposes in Hoover, but also still for an outside shot to be a host of a regional at Plainsman Park. While it would likely take a sweep of LSU to make that happen, Auburn is still alive because of its high RPI.
To make that happen the Tigers will have to get back to swinging the bats the way they did in a three-week stretch that saw them sweep both Alabama and Vanderbilt and win a game at Florida.
Last weekend it was a case of too many K's for the Tigers as they struck out 37 times in three games against Ole Miss. It is the most in a three-game stretch for Auburn this season, surpassing the total of 31 that came in the last two games against Arkansas and a loss at Samford.
While the offense has gotten considerably better late in the year, strikeouts continue to be an issue for the team and it's something that needs to get fixed in a hurry with postseason around the corner.
Player of the Week: Continuing his late season tear, junior Brendan Venter was one of the few players who was able to consistently put the ball in play against Ole Miss. Going 4-11 for the weekend with a home run and two RBI, Venter was 8-15 for the week with three home runs and six RBI when you factor in his 4-4 performance against South Alabama on Tuesday night.
Pitcher of the Week: Pitching the final five innings of the win over South Alabama and twice on the weekend at Ole Miss, redshirt junior Welby Malczewski didn't allow an earned run in six and two/thirds innings and only gave up four hits as he lowered his ERA from 6.26 to 4.85 with the big week.
SEC Standings Week 9
Florida 20-7, 41-12
Arkansas 17-10, 36-15
Georgia 16-11, 35-16
Ole Miss 16-11, 39-13
South Carolina 15-12, 30-21
6.LSU 14-13, 31-21
Auburn 13-14, 35-1 7.
Vanderbilt 13-14, 27-24
Kentucky 13-14, 33-18
Texas A&M 12-15, 34-17
Miss. State 12-15, 28-24
Tennessee 11-16, 28-24
-----
Missouri 10-17, 31-20
Alabama 7-20, 26-27
Auburn At Ole Miss
Ole Miss 5, Auburn 4
Ole Miss 8, Auburn 3
Ole Miss 10, Auburn 3
Georgia at Florida
Florida 7, Georgia 6
Florida 9, Georgia 3
Georgia 4, Florida 1
Vanderbilt at Tennessee
Vanderbilt 7, Tennessee 6
Vanderbilt 7, Tennessee 2
Tennessee 8, Vanderbilt 7
Missouri at South Carolina
Missouri 5, South Carolina 3
South Carolina 6, Missouri 3
South Carolina 1, Missouri 0
Texas A&M at Arkansas
Arkansas 9, Texas A&M 3
Arkansas 3, Texas A&M 1
Arkansas 6, Texas A&M 3
Miss. State at Kentucky
Kentucky 9, Miss. State 6
Kentucky 4, Miss. State 1
Alabama at LSU
LSU 7, Alabama 5
Alabama 6, LSU 1
LSU 7, Alabama 3
Week 10 SEC Schedule
LSU at Auburn
Arkansas at Georgia
Ole Miss at Alabama
Tennessee at Missouri
Kentucky at Vanderbilt
South Carolina at Texas A&M
Florida at Miss. State
Click Here to Sign Up for Premium Content
Subscribe to Inside the Auburn Tigers Magazine and Football Newsletter
Sign Up for Free AUTigers.com Newsletter