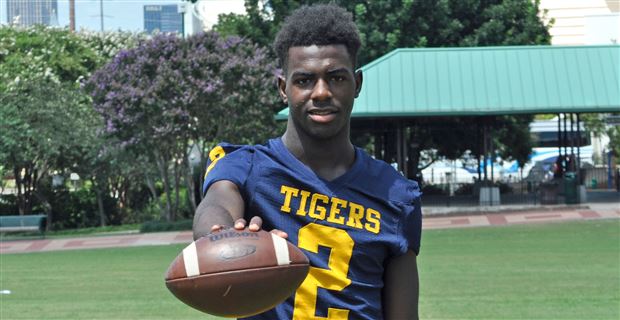 LaGrange, Ga.--Looking for elite playmakers, the Auburn Tigers made 2020 wide receiver Kobe Hudson a priority from the first time they laid eyes on him and on Thursday that hard work paid off when the four-star chose Coach Gus Malzahn's program over offers from Alabama, Clemson, Florida, Florida State, Georgia and several others.
A dynamic receiver who can make plays all over the field, Hudson had a monster sophomore season when he caught 45 passes for 896 yards and 12 touchdowns.
That came on the heels of a very strong summer on the camp circuit with one of those stops at Auburn. Dominating throughout his time on campus during a team 7-on-7 camp, Hudson caught Malzahn's eye and quickly became a must-have player for the Tigers.
Hudson is the latest addition to a growing list of outstanding skill players for Auburn and joins 2019 commitments Bo Nix and George Pickens as the future for the Tigers. He said both of those guys are part of the reason he feels good good about Auburn as well.
"They've got Bo Nix coming in. They've got George Pickens coming in," Hudson said. "Me and George talk a lot. George tells me they need me."
In the end it was the Auburn coaching staff that made the difference with both Malzahn and Kodi Burns showing Hudson plenty of love. He said Malzahn also made an impact on his mother and that's important to him as well knowing Auburn in his future home.
"My mom, she loves Coach Gus Malzahn," Hudson said. "They've got a good relationship."
Hudson becomes the second 2020 commitment for the Tigers joining teammate Andy Boykin.
Click Here to Sign Up for Premium Content
Sign Up for Free AUTigers.com Newsletter
Subscribe to Inside the Auburn Tigers Magazine and Football Newsletter