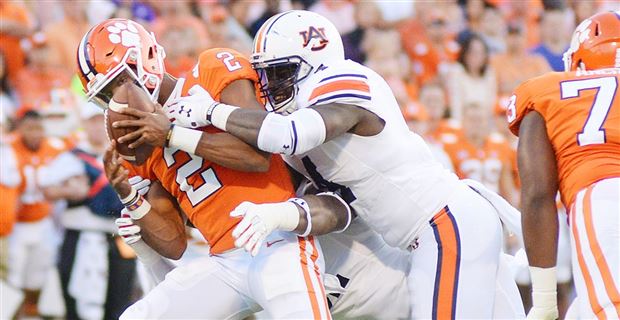 Auburn, Ala.--Coming off an All-SEC football season that saw him finish with 10 sacks and 45 tackles, Auburn junior pass rusher Jeff Holland has decided to leave school early and head for the NFL, Holland announced on Wednesday night.
He joins fellow juniors Kerryon Johnson, Kamryn Pettway and Carlton Davis as players who decided to forego their final season on the Plains to chase the dream of playing in the NFL.
"Jeff Holland had an outstanding junior year and was one of our most improved players," Auburn Coach Gus Malzahn said. "Jeff's love and passion for the game of football is contagious and it will carry over to the next level. I appreciate his time at Auburn and wish him the best."
A player who learned under NFL first-year sensation Carl Lawson his first two seasons as a backup to Lawson, Holland stepped up his game in 2017 and became one of the most feared pass rushers in the country. He said it was just time for him to take the next step.
"After an unforgettable season I have decided to pursue my lifelong dream and enter the 2018 NFL Draft," Holland said. "I want to thank my teammates, coaches, the entire AU athletic department, and the AU fans for the tremendous support over the last three years. I am forever a Tiger. War Eagle!"
Holland finished ninth on the Auburn team in tackles. He was in on 27 unassisted stops in 2017 with 19 assists. He led the team in tackles for losses with 13 for a combined 80 yards. He was also the top Tiger in quarterback sacks with 10 for 67 yards.
The junior also led the team in quarterback hurries with 22. He forced four fumbles, a team high, and recovered one. Holland also broke up one pass.
The six-foot-, 250-pounder was selected to the coaches and AP All-SEC teams in his first season as a starter. In 2015 he played in 13 games and made seven solo stops with six assists plus one sack. In 2016 the defensive end finished with two sacks plus 13 solo stops and 10 assists.
Holland's 2017 total of 10 quarterback sacks is 1 1/2 off the school record set by Nick Fairley in 2010. Holland is tied with three other players for sixth place for most sacks in an Auburn season.
Sign Up for Free AUTigers.com Newsletter
Subscribe to Inside the Auburn Tigers Magazine and Football Newsletter