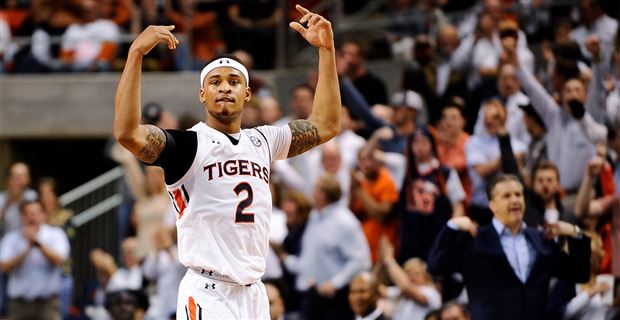 Auburn, Ala.-- Auburn junior guard Bryce Brown has decided to go through the NBA Draft process, but does not intend to hire an agent in order to have the option of returning for his senior season, becoming the third Tiger to follow that route joining point guard Jared Harper and center Austin Wiley.
Averaging 15.9 points per game as a junior and becoming the 36th player in school history to score over 1,000 points, Brown said this is a step for him to determine where he stands in the minds of the NBA teams prior to his senior season.
"I want to thank God for everything he has done for me and the way he has led me," Brown said. "I had a dream to play in the NBA one day and I want to pursue that dream. Testing the waters will be a great opportunity for me and my family to see where I'm at in the process.
"I want to thank my teammates and my coaches for putting me in great situations to succeed and show what I can do on the court," he said. "I want to thank the fans and the Auburn family as well. Together, we created something special this past season with the best home-court advantage in the country."
One of Auburn's most dependable players last season despite playing through shoulder and ankle injuries, Brown became a stalwart on the defensive end for Auburn and Coach Bruce Pearl said the work the Stone Mountain, Ga., native has put in speaks for itself.
"I'm not sure there is a player in college basketball who has improved more over the last three years than Bryce Brown," Pearl said. "He is an elite shooter, an improved playmaker and a great defender. We're really excited for this opportunity for Bryce."
A Naismith Trophy Top 30 honoree, Brown paced the Tigers to a program record 324 makes from downtown, smashing the previous mark of 289 last season. Brown buried 107 3s – the second-most in single-season history – and moved into second on the career 3-pointers list with 241 buckets from behind the arc.
Brown becomes the latest announcement from last season's Auburn team with three players declaring for the NBA Draft and deciding not to hire agents and three more players (Mustapha Heron, Davion Mitchell, Desean Murray) not planning to return next season.
Click Here to Sign Up for Premium Content
Sign Up for Free AUTigers.com Newsletter