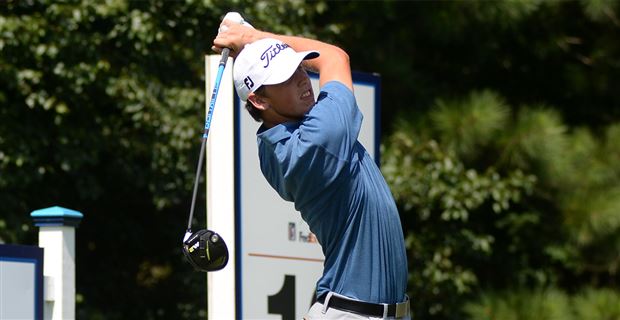 Norman, Okla.--On the strength of two-under par rounds of 70 by Trace Crowe and Ben Schlottman to put them in a tie for fourth place individually, the Auburn men's golf team is in good position following day one of the NCAA Norman Regional at Jimmie Austin OU Golf Club. Tied for second at even par with Arkansas and North Florida, the Tigers trail leader Oklahoma by five shots and are two shots clear of fifth-place San Diego State.
Missouri-Kansas City (+4), Florida State (+5), Nevada (+6), Pepperdine (+7) and BYU (+7) round out the top 10 after day one. The top five teams following three days will advance to the NCAA Championships.
Continuing to play solid golf, freshman Wells Padget fired a one-over par round of 73 for the third-best round of the day for the Tigers while Jovan Rebula and Brandon Mancheno both shot rounds of 75 (+3) to round out the scoring for Auburn.
Five-under par following a strong front nine that featured 10 birdies from the team, Auburn struggled on the back nine. Making just five birdies as a team on the final nine holes, the Tigers had eight bogeys and a double bogey to shoot five-over as a team.
"We played pretty well," Auburn Coach Nick Clinard said. "We got off to a pretty good start. I think we turned in four or five under. We made a few careless bogeys on 11 from the middle of the fairway and kind of hung in there. We didn't play hole 16 well and we've got to play that hole a little bit better tomorrow, but the guys played pretty well on 17 and 18 down the stretch.
"We're right there," he added. "We're tied for second and only five shots out of the lead. Our goal is to come in and try to win this thing."
Coming off an SEC Championship with a team that has played well all season long, Clinard said his team isn't focused on being one of the five teams to qualify for nationals, but coming home with another first-place finish.
"It's just another tournament for us really," he said. "It doesn't ever change, our ambition is to try to win. I think we're good enough to do that. I think we're arguably the best team here. We just have to go out and execute and have good thought processes and see what happens."
Click Here to Sign Up for Premium Content
Subscribe to Inside the Auburn Tigers Magazine and Football Newsletter