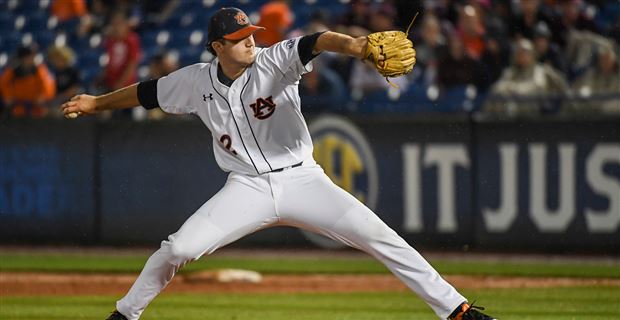 Auburn, Ala.--Junior Casey Mize has been tabbed the National Pitcher of the Month by the National Collegiate Baseball Writers Association (NCBWA).
In five starts during the month the Auburn right-hander posted a 4-0 record with a 1.75 ERA and produced in the ninth no-hitter in program history. In 36 innings pitched he struck out 54 batters and walked just one while holding opponents to a .133 batting average against.
Mize threw a no-hitter vs. Northeastern while striking out a career-high 13 batters. That was the the most by an Auburn pitcher since 2012 and the no-hitter was the Tigers' first since 2002.
The 6-foot-3, 220-pound right-hander matched his strikeout record in the SEC opener vs. Texas A&M before going on the road and striking out 12 at Kentucky. His 38 strikeouts during the three starts were the most in a three-game stretch dating back to at leat 1993.
He is 6-1 with a 2.17 ERA through eight starts this season. He not only leads the Southeastern Conference with 77 strikeouts, but also leads the nation with a 19.25 strikeout-to-walk ratio and ranks second in the country in WHIP (0.67). Dating back to last season, Mize has struck out 186 batters and issued 13 walks in 137.2 innings of work.
Mize was also named to the USA Baseball Golden Spikes Award midseason watch list this week.
Click Here to Sign Up for Premium Content
Subscribe to Inside the Auburn Tigers Magazine and Football Newsletter