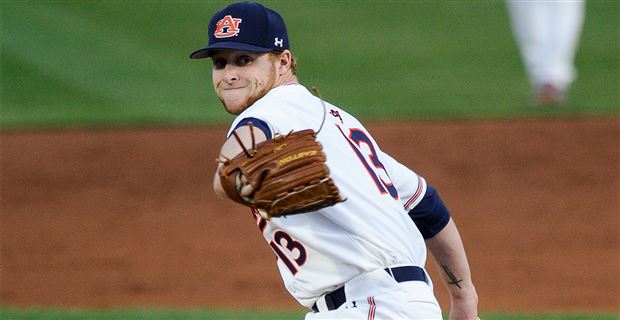 Auburn, Ala.--On a night when starting pitcher Davis Daniel and reliever Welby Malczewski allowed just seven hits and one earned run, the Auburn offense and defense let the Tigers (22-6, 4-4) down in a 2-1 loss to Missouri (20-7, 4-4) to even the series. Needing someone to make a play, the top five in Auburn's order went 1-20 with seven strikeouts in the loss.
The hard-luck loser, Daniel had one of his best career performances against Missouri on Saturday night. Giving up two runs on five hits in six and two/thirds innings with seven strikeouts, Daniel (2-1) threw 109 pitches and controlled things from start to finish, but mistakes proved to be too much to overcome.
Striking out 10 times with only one hit in the last four innings off Missouri reliever Andy Toelken (4-2), Auburn's offense had some opportunities early, but couldn't cash in on a night when Coach Butch Thompson said the play was better than the results.
"Davis Daniel and Welby, they gave us a chance the entire game," Thompson said. "That was tough for Davis because he had thrown so, so well. I thought just like yesterday (Missouri starter Michael) Plassmeyer got to the point where started throwing that fastball in and competing and Missouri's defense was the difference tonight.
"If my guys will give me an effort like that everyday you're never going to hear anything from me," he added. "Just one little piece of execution would have made the difference or at least extended the game."
Facing Plassmeyer, Conor Davis led off the second inning with a double to deep right field and when Jay Estes reached on an infield single to third base Auburn had something cooking. Following a Dylan Ingram strikeout, Luke Jarvis doubled to left to score Davis and put Auburn on the scoreboard.
With a pair of runners in scoring position and the top of the order at the plate it was a golden opportunity for the home team, but a Will Holland strikeout and a Steven Williams groundout ended the threat.
Auburn would again get a pair of runners on base in the bottom of the fourth on singles by Davis and Jarvis, but Holland would again strike out to leave two more runners on base.
Cruising through the first four innings, Daniel allowed a bunt single with two outs in the top of the fifth to bring Trey Harris to the plate. Getting ahead 0-2, Daniel tried to sneak a fastball by Harris, but instead the leadoff hitter roped a double to right-center to tie the game.
Pitching into the seventh, Daniel allowed a leadoff single, but recovered to get the next two hitters. With two outs Alex Samples stole second to move into scoring position for Harris and it proved to be a big play. Lifting a fly ball to left-center, Harris looked like he had brought the inning to a close, but Davis dropped the ball to allow the go-ahead run to score.
Auburn had one final chance in the bottom of the eighth when Davis and Estes both walked with two outs to bring Ingram to the plate. Batting under .150 when he stepped to the plate, Ingram swung at the first pitch and hit a ground ball to end the Auburn threat.
In the ninth Auburn got a runner on first with two outs when Williams drew his second walk of the game, but pinch hitter Edouard Julien struck out to end the game.
Auburn and Missouri will play the final game of the series on Sunday at 2 p.m. Freshman Tanner Burns (2-3, 2.86 ERA) will get the ball for Auburn against hard-throwing Bryce Montes De Oca (3-1, 2.80) for Missouri. The game can be seen on the SEC Network.