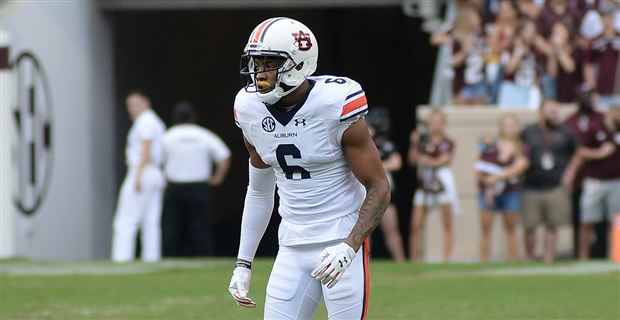 Auburn, Ala.--For the second consecutive day the Auburn football Tigers have lost a junior All-American when cornerback Carlton Davis announced on Wednesday his intentions to head to the NFL, joining running back Kerryon Johnson in leaving early.
"I would first like to thank God for giving me the ability to play the game of football and ultimately blessing me to be in my current position," Davis said. "Secondly, I'd like to say thank you for all of the unbelievable fall Saturday afternoons you enabled me to experience. I will forever be grateful and to the university and to the City of Auburn for accepting me as one of your own.
"With that being said, I have decided to forego my senior season and enter the NFL Draft. I would like to thank my parents, my brothers, my family, coaches, teammates for the love and support. I'd also like to say thank you to anyone and everyone that has ever supported me throughout my journey.
"It has been an honor and a privilege to be able to put on the orange and blue and represent all of the great players that came before me and those that will share that honor after me. I look forward to seeing you all soon as I plan to finish pursuing that valuable Auburn degree.
"I'd like to give a special thanks to my mother who has made countless sacrifices over the years and has supported me wholeheartedly through all of my ups and downs throughout my life. I appreciate everything you've done for me."
One of Auburn's top players since arriving on campus from Miami-Norland three years ago, Davis started 32 games in his career with the Tigers and finished with 138 total tackles, four interceptions and 29 passes defended.
A freshman All-American his first season, Davis struggled with injuries as a sophomore, but came back to have a strong junior year with the Tigers with an interception, 11 pass break ups, a forced fumble and a fumble recovery.
"Carlton has been a starter at Auburn from day one, using his talents and hard work to earn All-America honors," Auburn Coach Gus Malzahn said. "He has been a model of consistency and played an important role in the success of our defense. I appreciate Carlton and wish him all the best."
Davis is expected to be an early selection in the NFL Draft.
Click Here to Sign Up for Premium Content
Sign Up for Free AUTigers.com Newsletter
Subscribe to Inside the Auburn Tigers Magazine and Football Newsletter