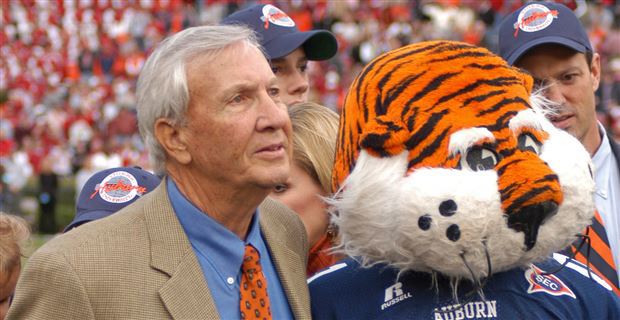 Now that it is finally warming up to be beautiful spring weather for baseball and softball, it is exciting to see Auburn hitters smacking the ball around Plainsman Park. If Coach Butch Thompson's team can keep hitting like it has done in recent games this team has a chance to make a strong run in postseason play. The Tigers are playing well and are a lot of fun to watch.
On the subject of postseason play, the softball team moves into that part of its schedule on Wednesday at the SEC Tournament. Coach Mickey Dean's group has a challenging draw with an opening round matchup against an Alabama team that had an SEC series sweep of Texas A&M last weekend. If the Tigers get past the Tide, waiting in the quarter-finals will be a matchup vs. Florida, the league's regular season champion and top-ranked team.
One way to look at the SEC Tournament draw is that it is an opportunity for Coach Mickey Dean's team to enhance its opportunity of being a host for the opening round of the NCAA Tournament. A couple of weeks ago the Tigers were in great shape to make that happen, but after being swept at Texas A&M the Tigers certainly have work to do if that is going to happen.
What the Tigers have going for them is a strong one-two pitching punch with senior Kaylee Carlson and junior Makayla Martin. Both have significant experience in postseason play and that is a big plus for a team that has won 40 games, but hasn't always played with the confidence needed for a championship group. For whatever reason, this team doesn't appear to be as mature as some of the previous AU softball teams that had a lot of success and will need Martin and Carlson to lead the way.
Another plus going into the postseason is that Auburn's pitchers have been getting plenty of help from the fielders, who have stepped up and performed better after an inconsistent start to the season. However, what will probably determine how far this team can go in postseason play is how well it hits. The Tigers have had some big scoring games, but all too often have struggled driving home runners who are in scoring position, especially against quality pitching.
That hasn't been a recent problem for the baseball boys, who have been getting production from a variety of players. If you look at the lineup, one through in the batting order, you don't see a single player who can't hit the ball well.
Casey Mize is obviously a great pitcher and the two freshmen, Tanner Burns and Cody Greenhill, are off to strong starts. A wildcard in the mix is Andrew Mitchell. When he can get the ball over the plate he is very tough to deal with and could be the strong No. 3 starter the Tigers have been searching for this year.
Another wildcard with the pitching is reliever Calvin Coker. He looked good on Sunday and hopefully he and the coaching staff have figured out what was causing his problems and he can return to the guy who was doing a good job last year and earlier in the 2018 season.
Davis Daniel is another talented pitcher who can really make a difference for this team if he can have a strong finish to the regular season and continue that into postseason play.
The Tigers have one more road series in the SEC regular season as they head over to play a talented Ole Miss team beginning on Thursday. Earlier in the year I?am not sure the Tigers were doing enough things well to be able to take a series on the road vs. a team like Ole Miss, but I think this bunch is growing up and is man enough to go over to Mississippi and win. That is what it is going to take. You can't go over there and be successful without having confidence and expecting to win, and I think the Tigers have that.
Click Here to Sign Up for Premium Content
Sign Up for Free AUTigers.com Newsletter
Subscribe to Inside the Auburn Tigers Magazine and Football Newsletter