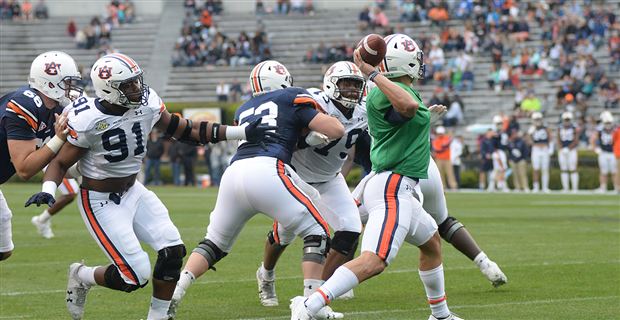 Memories Of 1988
There have been some pretty strong defensive lines at Auburn over the years since the group in 1988 that to me stands as the best in school history, but this season's group has a chance to challenge for that title based on what I saw this spring.
It all starts with a group of guys that I will call the seven starters because I think that's what Rodney Garner has at the moment. There is no disputing that Dontavius Russell and Derrick Brown are the top guys in the middle of the Auburn defense, but Andrew Williams has played really well for the Tigers and is a very strong third guy at tackle.
Outside Auburn has plenty of talented with Marlon Davidson a two-year returning starter with Nick Coe behind him. Coe may be the best non-starter in all of college football before this season is said and done.
On the other side T.D. Moultry and Big Kat Bryant have both come on strong this spring as Auburn looks to replace the production from Jeff Holland a year ago. Unless I miss my guess, I think the combination of T.D. and Big Kat will have no problems producing as pass rushers in 2018.
As one veteran high school coach told me Saturday after the game, "that defense line is just nasty."
Yes it is.
Running Backs
I'm not sure you could have put the offense in a worse predicament than it faced on Saturday without Jarrett Stidham, Kam Martin, Ryan Davis, Chandler Cox, Eli Stove, Will Hastings or centers Kaleb Kim and Nick Brahms.
Because of that it was interesting to see just what the running backs would do when forced with having very little running room for much of the contest.
We did see JaTarvious Whitlow improvise and run about 50 yards for a one-yard gain on Saturday, something he does well but is not likely to be successful too often against SEC defenses. What I did like from Whitlow was his ability to make people miss and also run for power. I thought it was another step forward for him.
The same is true of true freshman Asa Martin. I thought he did a good job of taking what the defense gave him on Saturday while running against the first-team unit. When he found a crease he did a good job of hitting the hole and running physical.
There is no question the player that helped himself the most was walk-on C.J. Tolbert. Continuing to perform well when given the opportunity, Tolbert has a knack for finding a hole and can get to the second level in a hurry. Coach Tim Horton has always liked Tolbert and he's a player who is in the mix to at least get some touches.
Malik Miller didn't really have much of an opportunity on Saturday to show what he could do, but based on the other guys I think he's going to need a very strong preseason to make a push.
Lawson Continues To Leave His Mark
Thinking about the play of Coe at defensive end and his upside has me thinking back to something I witnessed on the sidelines Saturday. Coming off the field following a possession he was met by former Auburn and current NFL standout Carl Lawson, who immediately got down in a stance and started showing Coe some pointers and things he could do to improve his game.
That's just what Lawson is all about.
Around the complex several different times throughout the spring, Lawson is a player who has a special bond with Auburn and the football program and continues to give back. Bravo to him.
Subscribe to Inside the Auburn Tigers Magazine and Football Newsletter