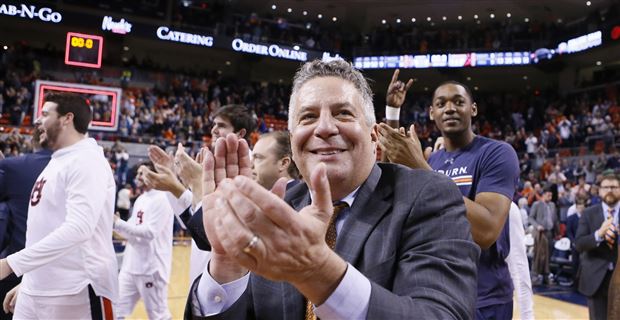 Continued Growth For Basketball Tigers
With every passing game we continue to see a basketball team and program that is taking strides forward under Coach Bruce Pearl and his staff and should be ranked when the polls are announced on Monday.
Saturday's win was just the latest example.
Building a big lead in the first half, Auburn had to fight off a furious comeback in the second half as senior-dominated Arkansas team started knocking down shots from the perimeter. Last season that's a game that Auburn probably finds a way to lose, but this isn't last year's team.
One of the biggest reasons why is the toughness this team displays at every level, beginning in the paint. The first time we saw Desean Murray at Auburn's practices two summers ago you could see a physical player who brought back memories of a guy like Frank Ford, but without Austin Wiley and Danjel Purifoy he's been forced into the paint and become so much more than that.
Murray has proven to be exactly what we called him early in the season, a glue guy. Those are the types of players who bind talented rosters together and make everything fall into place. Good teams at every level need those types of players and Auburn has several in Murray, Horace Spencer and Malik Dunbar.
All serve a key role for this team and do it in different ways without having to take a ton of shots or depend on their offense.
Then you have the play of point guards Jared Harper and Davion Mitchell.
At times the last three seasons Auburn has struggled to find one solid point guard. Now Auburn has two and they complement each other very well.
Last but not least, you've got to give it to Pearl, Harris Adler, Steven Pearl and Chad Prewett. Despite the turmoil they've dealt with and the challenges they've faced, the staff has kept this team not only together, but moving forward. That's something to be admired.
Making Mississippi A Priority
With the hiring of former Memphis defensive backs coach Marcus Woodson, Gus Malzahn not only provided some much needed help in the secondary, but also added a key recruiter in what has become a lost recruiting area for the Tigers in recent years.
Because college football teams use so many three and four wide receiver sets, teams are using five and six defensive backs the majority of the time. That makes it a good idea to add a second coach in the secondary to help share duties, which is what Auburn is expected to do with Woodson joining Greg Brown to coach the Tigers.
With one coach focusing on the safety position and the other coaching up the cornerbacks and nickel spots, it should help Auburn's defense continue to take strides forward under Kevin Steele. Add in the fact that you're replacing three starters and having more teaching going on should be huge for guys like Daniel Thomas, Jordyn Peters and the newcomers who will have a chance to play early.
Another reason the hire of Woodson is important for Auburn is that the Tigers have signed just three high school prospects from Mississippi since 2009--Daren Bates, Shon Coleman and Deon Mix.
That's it.
With a dozen 2019 prospects already rated four-stars in Mississippi, next year's class in the Magnolia State is thought by many to be among the best ever in the state so there is no better time for Auburn to add a guy with strong ties in that area.
Click Here to Sign Up for Premium Content
Sign Up for Free AUTigers.com Newsletter
Subscribe to Inside the Auburn Tigers Magazine and Football Newsletter