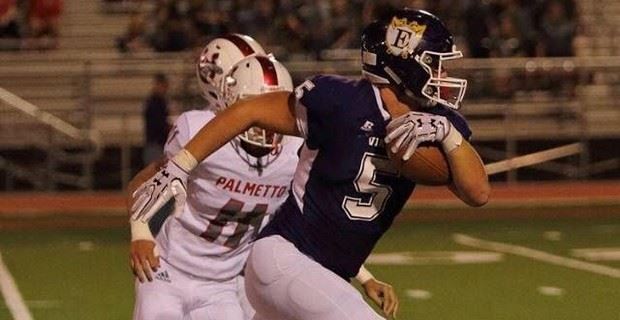 Recruiting Heating Up
The spring is a busy and increasingly important time for college football recruiting and things are beginning to heat up for the Auburn Tigers after a relatively quiet time during spring football practices.
Over the weekend Coach Gus Malzahn's program had tight end Luke Deal on campus for an official visit and several big unofficial visitors as well including teammates Jaylin Simpson and Jashawn Sheffield from Frederica Academy on St. Simons Island, Ga.
There is no question that Auburn's need for a true tight end continues to be a pressing issue in recruiting and Deal is a player the Tigers should feel good about after getting his fifth and final visit before he announces at the end of May.
The good news for Auburn is that some tight end help may be on the way in four-star athlete Harold Joiner. While he could get a look at running back, Joiner's best position is likely going to be as a hybrid tight end who could also line up in the backfield at times. With great hands and very athletic, Joiner will be one of the players to watch in preseason camp.
Back to recruiting, it could be a big week for the Tigers coming up with Simpson announcing sometime on Monday and five-star linebacker Owen Pappoe along with four-star offensive tackle teammate Wanya Morris announcing on Tuesday. With the possibility that Sheffield could also announce this week, Auburn could see some momentum continue on the recruiting trail after adding four-star 2020 wide receiver Kobe Hudson last week.
The Numbers Add Up
Despite dropping two out of three over the weekend at Florida, just getting a win on the road against the nation's number one team helped Auburn baseball's RPI continue to climb. Up to number six in the D1baseball RPI following the weekend, Auburn will have a chance to add more quality wins coming up this week when #32 Vanderbilt visits Plainsman Park.
Currently 31-14 overall and 10-11 in SEC play, Auburn is still very much in the host picture at the moment, but it's likely going to take at least 15 regular season SEC wins to make that happen and with Florida, Arkansas, Ole Miss and Georgia all in line to be host sites already, the number could push to 16 for the Tigers before all is said and done.
No matter what it all comes down to taking care of business on the field. With Vanderbilt at home, a road series at #7 RPI Ole Miss and finishing up with LSU at home to close out the regular season, it's hard to find a better opportunity for quality wins than Auburn will have the final three weeks.
Road Blues For Auburn Softball Continue
Following a sweep at Texas A&M over the weekend, the Auburn softball Tigers finished their SEC regular season schedule 11-12 , but just 2-9 on the road against league foes. That's probably the biggest reason why, barring a run through the SEC tournament, Auburn will likely be on the road when the NCAA Regionals are announced in two weeks.
All season long it has been a lack of offensive firepower that hurt the Tigers and that has especially been the case on the road. Auburn scored eight runs in the two wins at Ole Miss, but just 13 total runs in the nine losses with four of those runs coming in one game.
If the Tigers want to have postseason success in Coach Mickey Dean's first season on the Plains they're likely going to have to make a run away from Jane B. Moore Field this season, something Auburn hasn't had to do since traveling to Minnesota in 2014, the first season Clint Myers coached the Tigers.
Click Here to Sign Up for Premium Content
Sign Up for Free AUTigers.com Newsletter
Subscribe to Inside the Auburn Tigers Magazine and Football Newsletter