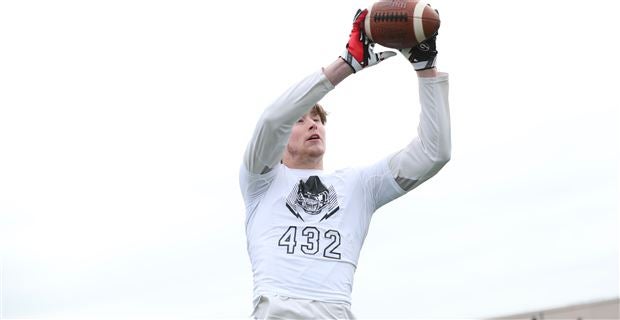 My Kingdom For A Tight End
Since 2014 when C.J. Uzomah and Brandon Fulse combined for 13 catches from the tight end position, the Auburn Tigers have just three total catches from a true tight end in the last three seasons and all three coming from Jalen Harris.
There is no question that Coach Chip Lindsey has made recruiting the position a priority since arriving on campus and over the weekend Lindsey and Auburn tight ends coach Larry Porter got one of the guys they've been waiting on in big Tyler Fromm from Warner Robins, Ga.
Known for being the younger brother of Georgia quarterback Jake Fromm as well as a heavily-recruited prospect, Tyler has plenty of skills to get the job done and should provide a punch for Auburn's receiving efforts from the tight end position when he gets on campus.
With very good ball skills and a frame that should easily allow him to play at 250 or better by the time he's done at Auburn, Fromm is the classic tight end in the mold of a Jason Witten-type who won't wow you with blazing speed, but just has a way of catching the ball and making plays.
Power Surge Powering Tigers
With six regular season conference baseball games remaining the Auburn Tigers already have 23 home runs in SEC play led by freshman Edouard Julien's seven bombs. That total of 23 is just seven away from last season's total for all games by Auburn and more than the total home runs hit in both 2014 and 2015 for the Tigers.
While the team batting average has continued to climb during this current run of 10 wins in the last 12 games for Coach Butch Thompson's club, it has been the damage done with the long ball that has helped the Tigers put big numbers on the scoreboard.
Scoring just 51 runs in the first 15 SEC games this year, Auburn has reached in double figures five times in the last nine league games and has scored 88 runs in the last nine games thanks to a barrage of home runs from up and down the lineup.
While pitching and defense are always going to be key for Thompson, getting the long ball going has definitely helped this Auburn team take things to another level.
It's Now Or Never
Winning their 39th and 40th games of the season on Sunday, the Auburn softball Tigers now face the fact that they likely need at least two wins in this week's SEC Tournament to at least get back into the serious discussion to be a host site for the NCAA Tournament.
With a record of 40-14 overall, but just 11-12 in SEC play, the Tigers are going to need to beat Alabama in the opening round on Wednesday and then knock off top seed Florida if they hope to catch the attention of selection committee.
While it's always important to play at home, for this Auburn team to make a run in the postseason it's almost a must they play at Jane B. Moore Field. With a record of 7-0 in non-conference road games this year, the Tigers are just 2-7 in SEC games away from home and that's a scary thought with a potential road regional coming up for this team.
The good news is that pitching and defense are usually things that travel well. With the defense improving and both Kaylee Carlson and Makayla Martin having a ton of postseason experience, I wouldn't count out this team just yet.
Click Here to Sign Up for Premium Content
Sign Up for Free AUTigers.com Newsletter
Subscribe to Inside the Auburn Tigers Magazine and Football Newsletter