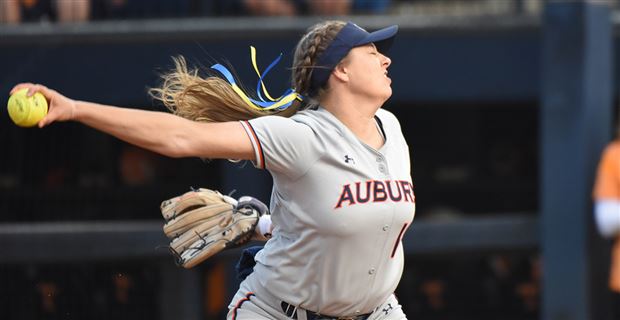 As the Auburn softball team closes its regular season conference schedule the Tigers will take the field on Friday evening to start a three-game SEC road series at Texas A&M.
The first pitch is set for 6:30 p.m. CDT from Texas A&M's new ballpark, which is officially opening with the Tigers coming to town.
The Saturday and Sunday contests are scheduled for 1 p.m. starts. Games one and three will be be streamed at SEC+ and the Saturday game will be televised on the SEC Network.
Both teams are looking to position themselves to be one of the top 16 nationally that will receive bids to be NCAA Tournament regional hosts.
Auburn is 38-11 overall and is the No. 14 RPI team in the country. The Tigers are 11-9 in SEC games.
Texas A&M, the No. 13 RPI team, is 37-12 overall and 10-8 in the conference.
"They have a really good hitting team throughout the lineup," Auburn coach Mickey Dean said. The Aggies have a .297 batting average and a .389 batting average. The Tigers are batting .291 with a .391 on-base percentage.
"One of their strengths is that they don't give up a lot of stolen bases so we are going to figure out a way to move baserunners," said Dean, whose team leads the SEC with 92 stolen bases. The Aggies have surrendered just nine stolen bases this season, the fewest allowed by any team in the league.
Auburn is coming into the contest after taking two of three at home vs. Arkansas. A fielding mistake in game two kept the Tigers from sweeping the Razorbacks on a wild throw to first base by pitcher Makayla Martin.
"We are going to continue to work on things," Dean said when asked about his team's defense, which has been very good at times, but it has had lapses that have cost the Tigers to lose well-pitched games. AU's .974 fielding percentage ranks fifth in the SEC.
"It is a beautiful game," Dean said. "It is a game of imperfections, mistakes are going to be made, and how do you overcome those mistakes? This past weekend, I thought for the weekend, we did a good job of overcoming mistakes. We had a game where we didn't do a good job whether it was in the circle, defense or driving in a big run."
Texas A&M lost two of three in its last SEC series, falling 2-0 and 3-2 at LSU before salvaging the final game of the series with a 6-0 victory.
Auburn will close its regular season with a doubleheader at UT-Chattanooga on May 6th before heading to Columbia, Mo., for the SEC Tournament that will run May 9th-12th on the University of Missouri campus.
Click Here to Sign Up for Premium Content
Sign Up for Free AUTigers.com Newsletter
Subscribe to Inside the Auburn Tigers Magazine and Football Newsletter