Auburn vs. UCF odds: Peach Bowl picks from 14-5 football insider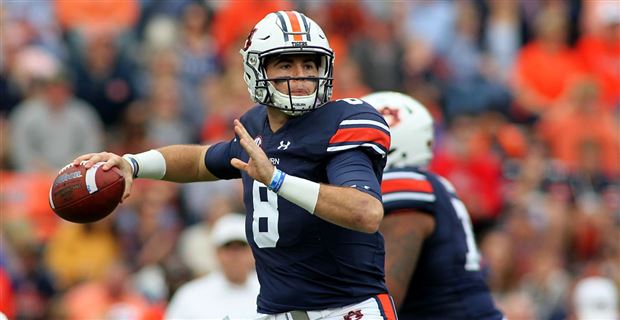 The 2018 Peach Bowl features a matchup of one of college football's storied programs facing an upstart looking to write the final chapter of its Cinderella story. The No. 7-ranked Auburn Tigers (10-3) take on the Central Florida Knights (12-0) in the Peach Bowl on Jan. 1 at Mercedes-Benz Stadium in Atlanta. Auburn has held steady as a 9.5-point favorite, while the Over-Under is 67.5, up from an open of 63.
Before you decide which side to wager on, you need to check out the insight and analysis from SportsLine's resident football insider, Emory Hunt.
Hunt brings a wealth of real-life gridiron experience to his football handicapping. A former college football running back, he sees the game through the lens of someone with the ball in his hands, diagnosing the game in real-time as it unfolds in front of him.
There are few industry handicappers who know the game better than Hunt, whose vast expertise in the X's and O's on the gridiron has paid off in the form of an impressive resume for SportsLine. The CEO of Football Gameplan, Hunt is 14-5 in his last 19 college football picks against the spread.
Now, Hunt has broken down every angle of the showdown between Central Florida and Auburn in what promises to be one of the most exciting games of the bowl season.
Hunt knows the Tigers just missed the four-team playoff after their late-season surge ended with a loss to Georgia in the SEC title game. Baylor transfer Jarrett Stidham was expected to be the difference-maker for the Tigers, but he struggled early as they failed to sustain consistency. But coach Gus Malzahn wisely adjusted the game plan to emphasize Stidham's pocket-passing skills to go along with a power run game.
The result was a 9-1 stretch run that included a win over rival Alabama and a berth in the SEC title game. The Tigers will need to revisit their peak form in order to beat a Central Florida club on a mission to finish what it started.
Central Florida has written one of the most memorable college football storylines in recent memory. Two seasons ago, more than 50 current players suffered through an 0-12 season and it looked as though a massive rebuilding project was needed in order for the program to restore respectability.
But former Oregon offensive coordinator Scott Frost immediately changed the team's fortunes and, while using a base of returning players, not only engineered a rapid turnaround, but one for the ages.
Two years later, the Knights are undefeated and capped an historic season with a wild win over Memphis in the AAC title game. They have used their creative schemes and perimeter speed to forge the nation's top-ranked scoring offense at 49.4 points per game.
Frost will be off to coach his alma mater, Nebraska, after the game. But in an unusual move, he agreed to stick around with the Knights as they attempt to finish their season with a Peach Bowl victory.
Hunt is leaning Under in the Peach Bowl, but what about against the spread, which he's made his name picking?
Will the Knights finish their storybook season with a win over a Power 5 conference club, or at least stay within the spread? Or will Auburn send the Knights crashing down to earth with a thud? Visit SportsLine now to see which side of Central Florida-Auburn you need to be all over, all from an expert who's hitting a whopping 70 percent of his ATS picks, and find out.
247Sports