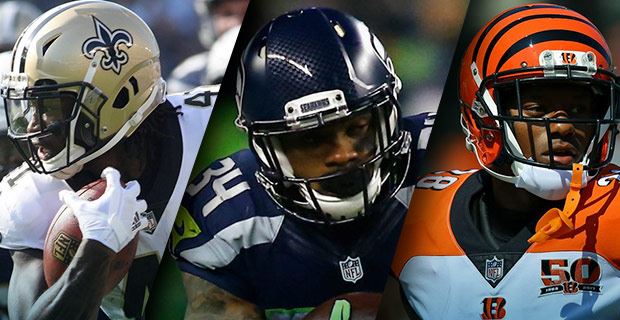 This week's Start 'Em column takes a new approach by identifying both candidates for 15-man roster leagues and 20-man roster leagues. At Scout Fantasy we always are trying to accommodate our diverse variety of players.
Quarterbacks
20-man roster
Watson earned his stripes in his performance vs. the Patriots (301/2TDs/41 rushing yards) on the road in Foxborough. The Titans' defense hasn't been able to generate much pressure on opposing quarterbacks (only five total sacks) which should allow Watson room to roam free inside and outside the pocket. He should perform well in this home start and remains a cheap add in some leagues.
QB Andy Dalton, Cincinnati Bengals
New offensive coordinator Bill Lazor has the Bengals offense ticking upward after nearly pulling off an upset at Lambo Field in Green Bay. In his last four games against the Browns, Dalton has thrown for nine TDs and zero interceptions. Start your Fantasy players against the Browns folks. Keep it simple until the script flips.

Use Promo Code: FANTASY17 to get 50 percent off your first month of membership!
15-man roster
There is lots of chatter regarding the demise of the Hawks' offense and Russell Wilson. In Week 3, I believe Wilson found his missing touch on his deep passes. His 373 passing yards and four TDs were quite impressive. You drafted Wilson early for opportunities like Week 4 when Wilson faces a Colts' secondary that may be the league's weakest units.
QB Cam Newton, Carolina Panthers
I have heard lots of chatter about dropping Cam Newton. It's a long season and I think it's a bit premature to drop the former MVP. Yes, he was dreadful in Week 3 against a horrendous Saints' secondary. That being said, If DeShaun Watson can throw for over 300 yards with multiple TDs against the Patriots, I believe Newton can do so as well. Going against the grain and recommending Newton vs. the Pats as the Panthers will be playing from behind.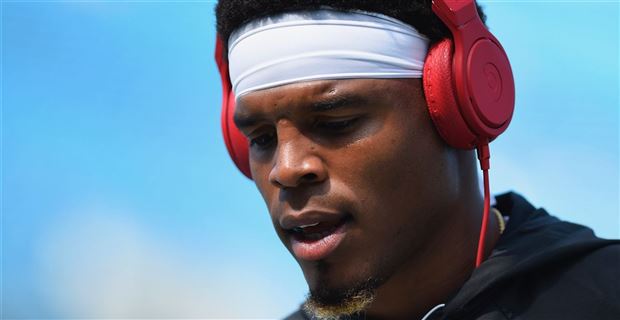 Running Backs
20-man roster
RB Joe Mixon, Cincinnati Bengals
Mixon was more than impressive in Green Bay than you think if you watched the game. He actually made a costly mistake on a crucial third down play late in the 4th quarter. Mixon slipped out of the backfield prior to the handoff from Andy Dalton and the Bengals were forced to settle for a field goal that opened the door for the Packers' comeback. Look for Mixon to avenge his Week 3 mistake against a vulnerable Cleveland Browns defense. Once again, start your players vs. the Browns.
Alvin Kamara joined the Saints diverse scoring party last week with a sick 25-yard TD run. Head Coach Sean Payton weathered the storm and avoided the 0-3 start. My personal opinion is that Peyton will use Kamara strategically moving forward but expect increased snaps and touches for the versatile rookie. My gut says to start Kamara in competitive leagues in Week 4 vs. Miami.

15-man roster
Not to be obvious here but you should of course start Cohen on Thursday night vs. the Green Bay Packers. If you watched the Week 3 game, Cohen scored the game winning TD and DID NOT step out on the sideline. If the correct call were made, Fantasy players would be toasting Cohen and not Jordan Howard. Keep plugging Cohen in to your lineup with confidence. He just might be the most talented Bear on offense.
Look for Seattle to "Get Right" against the Colts at home. The Hawks love starting slow and creating early-season adversity. Russell Wilson actually played solid last week and this will open up the running game for Carson vs. a weak Colts' defense. The Colts are averaging a whopping 30 points allowed on defense. Carson rushed for 93 yards in his only home game. Time to plug Carson in as a RB2 or Flex in Week 4.
Wide Receivers
20-man roster
WR Marqise Lee, Jacksonville Jaguars
Over the last two weeks, Lee has quietly become the top receiving option in the Jaguars' passing game. Lee had four receptions for 65 yards in the first half on a variety of short and long routes. Over the last two weeks, he has a sneaky 23 targets for 11 receptions and 141 yards. Remember that Lee is part of the amazing 2014 WR draft class. The only WRs selected ahead of him in the draft were Sammy Watkins, Mike Evans, OBJ, Brandin Cooks and Kelvin Benjamin. Lee was drafted ahead of WR standouts Jarvis Landry and Davante Adams.
Sign up for Fantasy e-mail updates that'll keep you dominating all-season long!
The Packers took the safe route with Cobb and made him inactive in Week 3. Prior to Cobb getting dinged up, he was back in the groove, averaging 15.25 FPPG in his first two outings of the year. Cobb has morphed into Aaron Rodgers' safety net in the middle of the field, which helps him in PPR leagues. Double check Cobb's health but don't be afraid to play him on Thursday Night Football.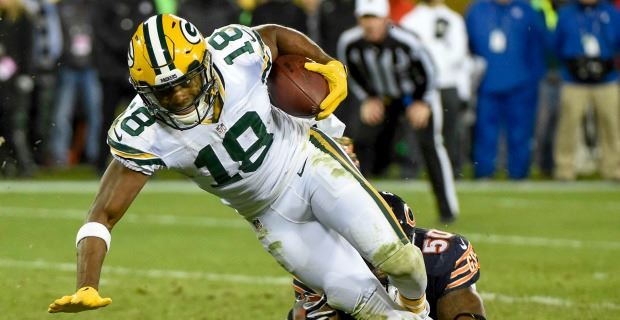 15-man roster
WR Chris Hogan, New England Patriots
Prior to Julian Edelman suffering a season-ending injury, I watched an interview from training camp as he explained if you cannot run the whole route tree including deep balls, you will have a hard time earning playing time within the Pats' offense. Enter Chris Hogan. In Hogan's last six games as a Patriot (including 2016 playoff games), he's accumulated 486 receiving yards and five TDs. How bout them apples?
You might find Diggs low on some rankings this week but can you really sit Diggs after his performance last week? Diggs has dominated in home games: 266 receiving yards and four TDs. In Diggs at home we trust... or at least until he proves otherwise.
Tight Ends
20-man roster
Clay continues to be overlooked. Tight ends are a tricky position this year for Fantasy owners with tons of hit or miss performances at the position thus far. Clay ranks second in targets and receptions, third in yards and is tied for the team-lead in touchdowns. The Bills will be playing from behind against the Falcons and I like the Clay's athleticism to help him make a big play on the fast indoor playing surface in Atlanta.
15-man roster
Touching once again on the inconsistency from the TE position, one TE who has been consistent is Giants rookie Evan Engram. He has to share the stage with OBJ and others but that also presents more potential open opportunities. Engram is averaging a dependable 6.33 targets, 4.33 receptions and 46 receiving yards per game. A breakout game is coming…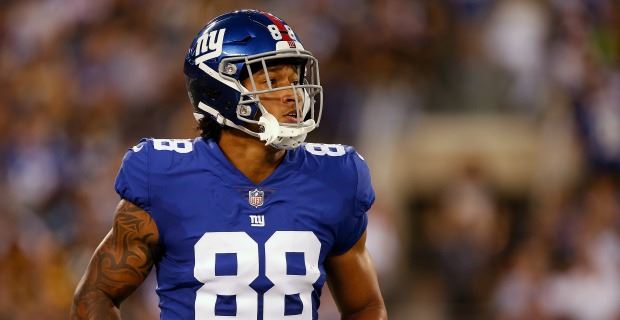 DEF / ST
20-man roster
Atlanta Falcons DEF / ST
I don't know how the Bills will keep pace with the Falcons offensively. Thus I anticipate the Bills to be playing from behind and present Atlanta's defense with several chances for big plays. You can get the Falcons DEF / ST for almost nothing. Atlanta's defense produced 13 Fantasy points in their only home game in a similar role where they were ranked in the teens against Green Bay in Week 2.
15-man roster
Seattle Seahawks DEF / ST
I have been asked by multiple people this week if they should play Seattle's defense? The answer: Yes, absolutely. The fragile Hawks will get right against an inferior Indianapolis Colts roster. Look for Seattle's defense to show up more focused on the game rather than politics this week. Some veteran Seattle defenders were burnt in Week 3 and will get redemption against the Jacoby Brissett-led Colts.

Looking for NFL DFS advice? ScoutDFS.com is officially LIVE! You have THREE days left to get the best deal in the industry! We are offering $10 off per month for LIFE if you sign up by the end of September using a special promo code. Click here to learn more about ScoutDFS and to access that discount code! Don't be one of those guys banging his head against the wall for not signing up before the deadline! Join now!