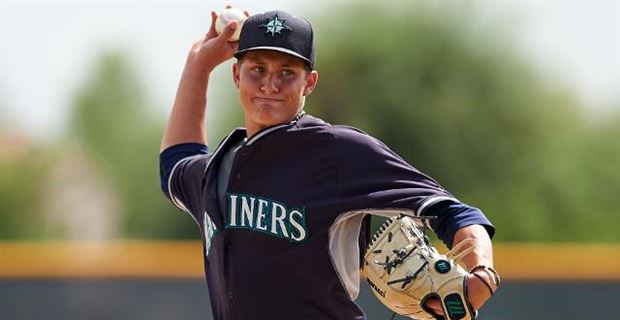 The Miami Marlins organization is hoping the moves the team made in the offseason – by trading three superstars for minor league prospects – pays off in the near future. One of those prospects, Nick Neidert, is excited about being part of the transition of this organization. The right-hander could be part of the Marlins' rotation down the line.
The Lawrenceville, Ga., resident is one of the prominent young pitching prospects the Marlins have added through recent trades. He comes from a winning culture, and joins a growing list of high-ceiling players.
"He's another starting pitcher candidate for us," Marlins vice president of player development and scouting Gary Denbo said via MLB.com. "We believe he will have a chance in the future to join our starting rotation. He's only 21 years old."
Neidert was part of the deal that sent second baseman Dee Gordon to the Seattle Mariners this offseason. Gordon will play in the outfield for the American League team.
A second-round Draft pick of the Mariners in 2015, Neidert went 10-3 with a 2.76 ERA in 19 starts at Modesto. At Double-A, things didn't go as smoothly for the right-hander, as he was 1-3 with a 6.56 ERA in 23 1/3 innings.
"I got roughed up a little bit when I got to Double-A, but at the same time, I definitely learned a lot from those guys there, and from pitching," Neidert said in an interview with MLB.com. "I think it definitely helped me this offseason to prepare for the upcoming season to be even better than I was this past year."
With a fastball, changeup slider mix, Neidert made his biggest impact at Modesto, reflected by his impressive credentials. He struck out 122 and walked just 22 in 127 2/3 innings in 2017.
The Marlins made a commitment to finding young arms for the future. The pitching staff was the team's biggest weakness of 2017. While Giancarlo Stanton and Marcell Ozuna had career seasons at the plate, their dominance could not overcome inconsistencies on the mound. They both were traded, with Miami receiving solid minor league prospects in return.
The same holds true in the deal that sent Gordon to Seattle.
With the acquisition of new talent in the organization, Miami top prospects look a bit different from last year. According to MLBPipeline.com, Neidert is Miami's No. 7 prospect. In the Gordon trade, the Marlins also acquired infielder Christopher Torres, ranked 14th, and right-hander Robert Dugger.
Joe Frisaro of MLB.com wrote that Spring Training will determine where Neidert starts off, which likely will be either at Double-A Jacksonville or Triple-A New Orleans. He could win a rotation spot for the Marlins in camp, but with just 254 career Minor League innings, coupled with the fact he turned 21 on Nov. 20, there's no urgency to rush his development.
"He has the ability to command his fastball," Denbo said. "His changeup is plus. We like the movement he has on the fastball because it's different than what you normally see. He's got deception, which makes it very difficult for batters to pick up the ball, and he's a good athlete. There's a lot of qualities there that make us believe he will help us in our starting rotation in Miami